Minelab SDC2300 Coil Tilt Knuckle Lock
$40.00 Inc. GST (Au)
SDC2300 Accessory.
– COIL LOCK (and knuckle protector)
* Prevent Lateral Coil Tilt
* Helps Protect Your Investment
* Guards Knuckle Case From Ground Wear
* Cable Tie Fastener is Retained And Protected
Description
SDC2300 Coil Tilt Lock (with collar guard)
Prevent Coil Tilt and Improve Ground Penetration With This Simple Add-on.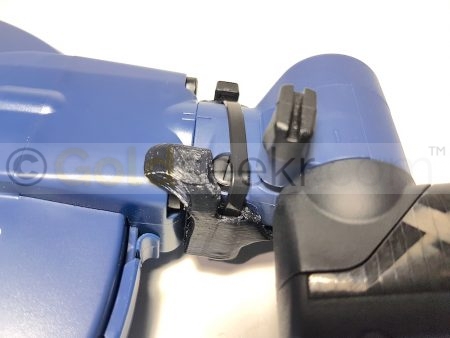 Improve Detecting Performance and Protect Your Gold-Finding investment.
The SDC2300 Coil Tilt Lock can improve your detecting performance by increasing the time your coil is close and level with the ground. This helps ensure the SDC2300 penetrates to the maximum depth available while in the field
Additionally, while the coil itself has a replaceable skid plate, the coil collar pivot (aka, knuckle) has remained vulnerable to rapid wear and possible damage in the field. Fitting your Minelab SDC2300  Coil Lock will give you peace of mind knowing the 'rough end of the stick' is not going to become the weakest link in your investment.
• Made from a tough, flexible, UV hardy Plasticized Copolyamide
• Will not crack or break.


Installing the SDC2300 Coil Collar Guard
INSTRUCTIONS
:
You will want to cut the cable tie after fitting.
Fit the guard to the underside of the coil knuckle. 

 Thread the cable tie through and zip tight; cut off excess cable tie.


You're done.

 
Additional information
Weight
0.015 kg
Dimensions
6 × 6 × 6 cm
NOTES:

SDC2300 Accessory.
– COIL LOCK (and knuckle protector)
* Prevent Lateral Coil Tilt
* Helps Protect Your Investment
* Guards Knuckle Case From Ground Wear
* Cable Tie Fastener is Retained And Protected