Goldseekr-RADiAL Action Telescopic Carbon Fibre Swing Arm for Garrett AXIOM – (was $125)
$125.00 Inc. GST (Au)
Minelab Guide Arm GA10 Bolt-on Accessory Upgrade to suit GARRETT AXIOM.
Description

The Goldseekr RADiAL Action telescopic swing arm delivers unmatched coil control for the Garrett AXIOM through innovative functional design and reliability.
_

See "ADDITIONAL INFORMATION" above for further details.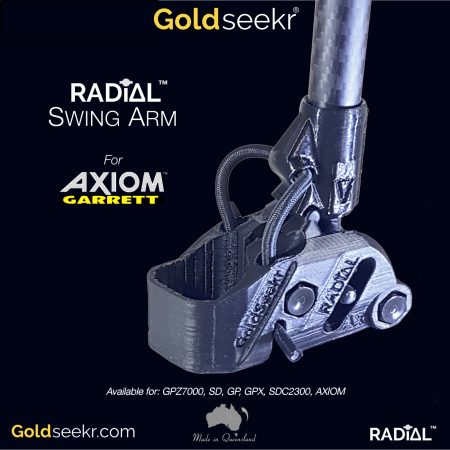 Additional information
Weight
0.150 kg
Dimensions
62 × 6 × 6 cm
NOTES:

• Suites GPZ7000 shaft
• FlexiTUFF Nylon fittings with internal fill.
• Twill Carbon Fibre Telescopic shafts
• 37-56cm adjustable length
• 'Screw to lock' function
• Supplied Plastic bolt/nut
• 1yr replacement warranty
Only logged in customers who have purchased this product may leave a review.