PROSPECTOR 18650 Lithium Ion 3500mAh Battery Upgrade Kit for Minelab SDC2300
$179.99 Inc. GST (Au)
SDC2300 Upgrade Accessory.
– PROSPECTOR LITHIUM BATTERY UPGRADE KIT
* Maximise Your Field Time
* 4 Slot, 3.0Amp FAST Li-ion charger
* 18650 Lithium cells (x2) common battery size
* Charge in 2+hrs. (3500mAh cells)
* 11-14hr Run time
Full Charge in 2+hrs. (3500mAh cells)
Out of stock
Description
SDC2300 PROSPECTOR Li-Ion Battery Upgrade Kit
Four common size 18650 3500mAh cells can power 2 SDC2300 detectors for up to 14hrs .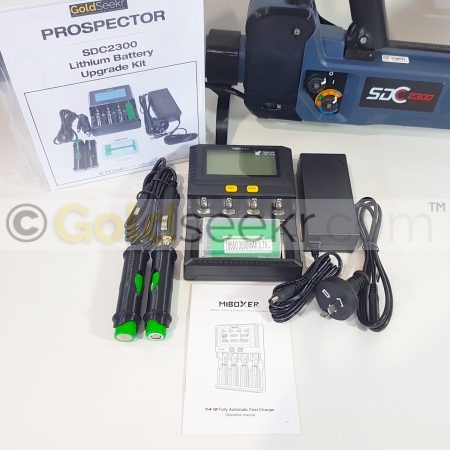 Battery power that keeps up with your demands.
Don't get let down by your batteries again. With lithium cells, you get to set your prospecting pace without having to recharge in the middle of the day, or limit how far you can go.
• Eliminates random power interruptions and restarts
• Lightest weight (230g less)

• Get the most from your field time plans day & night
• Better power for larger coil demands
• Reported improvement in audio output 
• Compatible – Li-ion, Ni-Mh, Ni-Cd .
• Massive 3A/ per channel fast charging.
• Can Manually set charging rate .
• High precision internal battery calibration.
• Automatically stop when battery is full.
• LCD countdown charging timer and battery status display
• Built-in battery capacity measure
• PowerBank to charge other devices via USB connection
• Battery repair function (Li-ion)
• Reverse-battery and short circuit protection.
• Auto-detect battery type
• Full multi-channel charging independence
• Can charge small capacity batteries.
• DC12V car charger mode.
• AC 100-240v mains power AU plug (US Available, please indicate in checkout).
• Fire retardant material with excellent heat dissipation and circuit design.
The PROSPECTOR Kit Includes:
• 1 x MiBoxer 'C4-12 Upgrade' four bay universal 3A rapid SMART charger.
• 2 x Lightweight Australian made custom 'Prospector' battery adapters
• 2 x Genuine LG INR18650MJ1 3.7v 10A, Li-ion Batteries (3500mAh)
• 1x Worldwide AC/DC AC100-240v / DC12v Power adapter unit
• 1x12v (fused) Car lighter socket power cable.
• 1x Battery storage case
• 1x Information sheet
• 1x Instructions sheet
• 1x Lithium Safety flyer
Additional information
Weight
1.15 kg
Dimensions
18 × 21 × 6 cm
NOTES:

• FlexiTUFF Nylon battery adapters
* Genuine LG 18650 MJ1 quality cells
• Battery safety guide
* Charger current =4 slots at 3.0Amp simultaneous
• 1yr replacement warranty on adapters and charger
Only logged in customers who have purchased this product may leave a review.