Flexituff Coil Collar Guard – for Minelab SDC2300
$24.99 Inc. GST (Au)
SDC2300 Upgrade Accessory.
– COIL COLLAR GUARD (knuckle protector)
* Necessary to Protect Your Investment
* Guards Knuckle Case From Ground Wear
* Cable Tie is Retained And Protected
Description
SDC2300 Coil Collar Guard
Protect Your Investment With This Simple Add-on.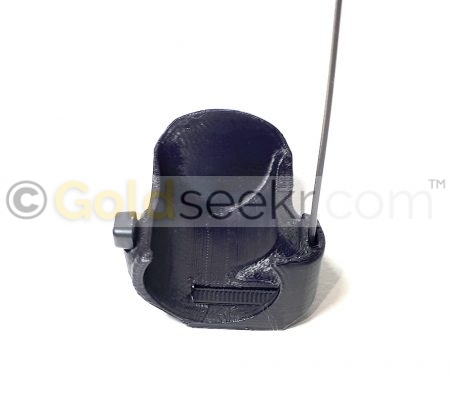 Cheap insurance That Protects Your Gold-Finding investment.
The Coil Collar Guard protects a part of your Minelab SDC2300 Gold detector that is located right next to the business end of your machine – the coil. This area is in frequent contact with rocks, logs, sticks and other obstacles throughout a day of gold detecting and needs to be maintained accordingly.

While the coil has a replaceable skid plate, the coil pivot (aka, knuckle) has remained vulnerable to damage in the field. Fitting your Minelab SDC2300 with a Coil Collar Guard will give you peace of mind knowing the 'rough end of the stick' is not going to become the weakest link in your investment.
• Made from a tough, flexible, UV hardy Plasticized Copolyamide
• Will not crack or break.


Installing the SDC2300 Coil Collar Guard
INSTRUCTIONS
:
You will want to cut the cable tie after fitting.
Fit the guard to the underside of the coil knuckle.

 Thread the cable tie through and zip tight; cut off excess cable tie.


You're done.

 
Additional information
Weight
0.015 kg
Dimensions
6 × 6 × 6 cm
NOTES:

• FlexiTUFF Nylon.
• Retained and protected cable tie
• 1yr replacement warranty