CUSTOM BUNGEE KIT – for Minelab SDC2300
$29.99 Inc. GST (Au)
SDC2300 Upgrade Accessory.
– CUSTOM BUNGEE KIT
* Adjustable length
* Great With Larger Coil Weights
* Helps Improve Your Efforts In The Field
* Custom Clip Matches Harness "D" Ring Curve
Out of stock
Description
SDC2300 Custom BUNGEE Kit
A clean, simple and effective bungee system designed especially for your SDC2300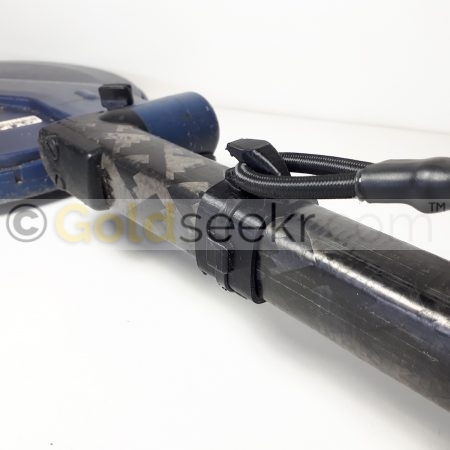 The Custom Bungee kit helps leave the Speargrass and Spinifex in the Bush
From one end to the other, the custom bungee kit is about making things just a little bit easier. The harness clip is designed with a custom scalloped inner curve which allows for easy attachment AND release from your harness "D" ring – so you can get to your targets easily, without being tethered to your machine.

• Made from a tough, flexible, UV hardy Plasticized Copolyamide
• The shaft fitting is easy to fit with the supplied cable tie.
• The the lower shaft hook retains the bungee loop – which can be easily detached.

Installing the SDC2300 Custom Bungee
INSTRUCTIONS
:
You will want to cut the cable tie after fitting.
Unthread the cable tie from the bungee hook sleeve.

Wrap the hook sleeve around the upper end of the SDC2300 lower shaft.

Rethread the cable tie and zip tight – cut off the excess.

Hook the bungee loop into the sleeve hook.

Hook the clip through your harness "D" ring.

You can adjust the bungee length as needed – just pull the tail into the jam slot to lock in place.

For storage, just clip the bungee onto the arm strap.
– Easy!

Additional information
Weight
0.040 kg
Dimensions
18 × 18 × 6 cm
NOTES:

• FlexiTUFF Nylon Sleeve and Clip.
• 1m unstretched total length
• 1yr replacement warranty